Happy Wacky Wednesday Friends,
I am back today with some more linky parties that I wanted to join up with! So sit back & enjoy!! :)
Linky:
Run! Miss Nelson's Got The Camera
is having a favorite fonts linky party: Here are a few of my favorite fonts:
***************************************************************
Linky: Molly from Psyched to Be In 2nd! is having a first day of school linky party:
I always like to make the first day of school as relaxed and fun as possible! After all, I want the kids to go home excited & not crying that they never want to go back again! :) I always start the day off with the kids coming in and doing a coloring sheet. Then we go to the carpet & proceed to go over procedures with A LOT of modeling. I call students up to model what each rule should look like. We practice everyday throughout the week. Then we do a community building activity. We take a ball of yarn and say our names & one thing about ourselves, then hold on to the string & throw the ball of yarn to someone else. This goes until everyone has had a turn & then we have a web of yarn. We discuss how we need to work together, because if one person doesn't cooperate, the web will fall apart. Next, we read "The Kissing Hand" and do some Chester crafts, like a handprint puzzle and an I love you necklace. In the afternoon, we read "First Day Jitters" and do activities from
Abby's
Fun With Firsties pack. We drink Jitter Juice to calm our nerves. Then at the end of the day, we talk about how things went that day & get ready for more fun the following day! :)
***************************************************************
Linky: Ashley from
The Resource Room Teacher
is having a Guilty Pleasures linky party!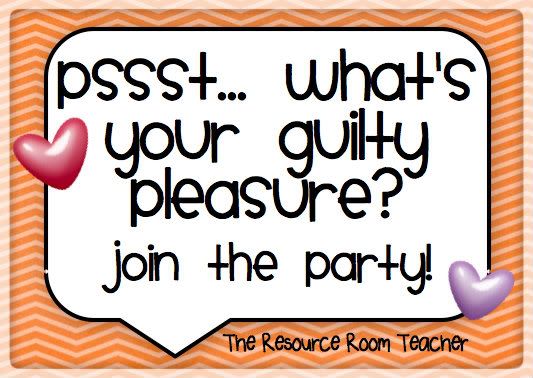 Guilty Pleasure #1: The 50 Shades Trilogy:
Oh yes, I love me some Christian Grey!! I was actually sad when I finished the last book & realized that there weren't any more to read. I can't wait to see if they come out with a movie about this.
Guilty Pleasure #2: Ben & Jerry's Ice Cream
Oh how I love to curl up on the couch with my friends Ben & Jerry to veg out and watch TV. Ben & Jerry have gotten me through a lot of nights on the couch!!
Guilty Pleasure #3: Starbucks Java Chip Frappuccino
There's nothing better than shopping at Target and being able to get a Starbucks Java Chip Frappuccino! It's like heaven on earth. I've tried other frappuccinos, but this is the one for me!
Guilty Pleasure #4: Dexter
I know I have mentioned this a few times since I've been blogging, but I LOVE Dexter!! Michael C. Hall is a wonderful actor & I am totally addicted to this show!!
Guilty Pleasure #5: Blogging
Hi my name is Lisa and I'm a blog-a-holic!! I love this blogging world & everything that everyone shares. I have made so many blogging friends on here & I truly appreciate everyone!! :) It truly is amazing & I'm starting to get friends to get into blogging too!!
***************************************************************
Linky- What memory do I have about the grade that I teach? from
Simply Kinder
I teach first grade & I remember how sweet and nice of a teacher that I had. Her name was Mrs. Robinson & I was lucky, because I had her for 4th grade too. She was definitely one of my inspirations for becoming a teacher. I remember enjoying 1st grade so much. I remember skip counting every morning after the morning announcements. I remember using those old IBM computers to work on writing. I don't remember a whole lot about being in 1st grade, but I do remember that my teacher was amazing!
I do remember a memory from Kindergarten though-- I had a substitute one day & this boy & I were fighting in class. Not physically- just arguing. The substitute sent both of us up to the office to be paddled!! YIKES...yes paddled. I came from a strict household, so I was terrified to be paddled. Luckily, I was not paddled, but I don't think I had ever been so scared in my life! I remember after kindergarten they were not allowed to paddle kids anymore.
Well that's it for today's linky session!! I have a treat for you tomorrow! Stay tuned to see what it is! :)