Happy Saturday Friends,
Thank you to all of the wonderful bloggers who participated in the Blog Swap and Hop! I really enjoyed getting to know these bloggers and was excited to get some new ideas to implement in my classroom.
Today I'm linking up with not one but 2 bloggers who I am inspired by everyday. First I am linking up with Amanda from
Teaching Maddeness
for her Turn the Music Up! Linky Party: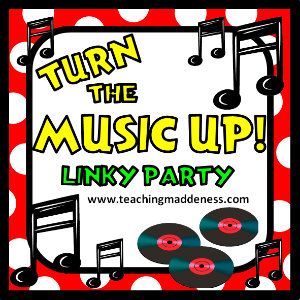 I...love...music.
I listen to music everywhere that I go & sometimes even *try* to dance. I must tell you, it's not always a pretty sight. With that being said, I love using music to teach concepts in class, & you can see the difference with my students when I turn the music on. The vibe in the room totally changes & they are so engaged! Here are some of my favorite music finds for the classroom:
1.
Pandora
I love using Pandora in my classroom while my students work. If you aren't aware, Pandora is an online radio station with no commercials & a wide variety of music. They have several kids stations & my students perk up when I turn it on. I love to hear them singing while they work!
2. Jack Hartmann
We were fortunate to have Jack Hartmann visit my school a few years back. We use his songs a lot in my classroom to learn reading & math concepts and for transition during centers. We LOVE his pirate song!:
3. Between the Lions & Electric Company music clips:
I use a lot of Between the Lions & Electric Company music clips in my reading flipcharts to teach new word families. My students are instantly hooked and always ask me to repeat the songs.
4. Have Fun Teaching Counting Songs:
I love
Have Fun Teaching's
catchy songs. I am a big fan of their counting songs. They have several skip counting songs, as well as songs for many other subjects. It is a great resource for music! Go and link up with Amanda & share your favorite music finds for the classroom!
If I'm this lucky, maybe I should consider playing the lottery tonight! =).
Have a great Saturday!,