Happy Monday Friends!,
I hope that your Monday is off to a great start!! I have had the best day of my life (besides those monumental life changing days--marriage and having my daughter). You will see why below...keep reading!
Today I am linking up with Megan at I Teach. What's Your Super Power? to tell you What I'm Lovin'!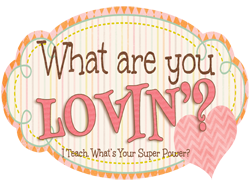 1. Okay, I just can't hold it in anymore...I found out today that I was voted Teacher of the Year!!! I think that I am still in shock and can't believe it. I feel so honored. I'm literally floating on cloud nine right now! I am very thankful to my friends who took the time out of their busy schedules to write the most amazing nominations for me. I am forever grateful!
2. Starbucks Pumpkin Spice Latte!
I cannot live without coffee during the school day and now that the Pumpkin Spice Latte is back, I REALLY can't live without coffee!!
3. My Erin Condren planner... I have showed you this a few times but it is literally a lifesaver!! My schedule is extremely hectic and this helps me make sense of everything.
4. My Teacher Keeper
I mentioned a few months ago that I purchased this from Jessica Pollard. This has helped me be so organized this year. I highly recommend it. Click
HERE
to check it out!
5. My Highlight Your Paper Sign
I stumbled upon the highlight your name before you turn it in idea a while ago. * I can't remember who I got this from. If you know who I can credit, please let me know. I started using it last year & it has literally cut down on my "no-name" papers by 90%. It's a win-win situation. My students get to use markers and I don't get frazzled about figuring out whose paper it is! Love it!
Tell us what you're lovin' & link up with Megan from I Teach. What is Your Super Power?
Have a wonderful evening!,