Happy Wednesday Friends!,
Ahh, the sweet sound of Thanksgiving break. I must admit, I was counting down the days. It was so nice to not have to worry about an alarm blaring into my ear this morning and puttering around the house. Now to rest up for tomorrow--not just for Thanksgiving, but for Black Friday shopping. This is a huge tradition with me. I am a little obsessive about finding great deals. I found this ecard & have to share it!
LOL...so true!!
I'm going to share a few things that I did in my classroom the past few days. Thanksgiving was in the air in my class & I was so excited to be able to take a few days for some good old fashioned F-U-N!
Thank you to some of my wonderful fellow bloggers for creating such wonderful ideas to use in my classroom.
First, we did this ADORABLE craftivity from Kelley over at
The Teacher Idea Factory
. She created "A Plate Full of Thanks". They came out so stinkin' cute. Here are a couple of pictures of how my students did!
This little one was after my own heart...I am thankful for Mrs. Richling...I swear that I didn't bribe her to write that either! lol :)
She has a freebie on Teachers Pay Teachers with the patterns that you can download for FREE! We received a lot of compliments on these!
Of course, we had to throw in some academics! We did some Roll and Colors (a freebie from Teri over at
A Cupcake For The Teacher
)! :)
And have you seen Katie's new packet, The Busy Teacher's Best Friend from
Queen of the First Grade Jungle
. I bought her Thanksgiving edition & words can't even describe how much I puffy heart love it!!
We did some activities out of here. Her Supper Sequencing number order page was one of my favorites!
Don't miss out on it...great investment!!
We also used a free unit that
First Grade Wow
had on her blog for "Twas the Night Before Thanksgiving". My students loved it!
Whew! What a busy week!
Now the moment you have been waiting for...have you heard about the BIG Cyber Monday (and Tuesday) mega sale at Teachers Pay Teachers?!?!? I will be participating in the sale. Everything in my store will be marked down 20%, with TPT throwing in an extra 8% off for savings of 28%. Don't forget to enter the code CMT12 for your additional savings.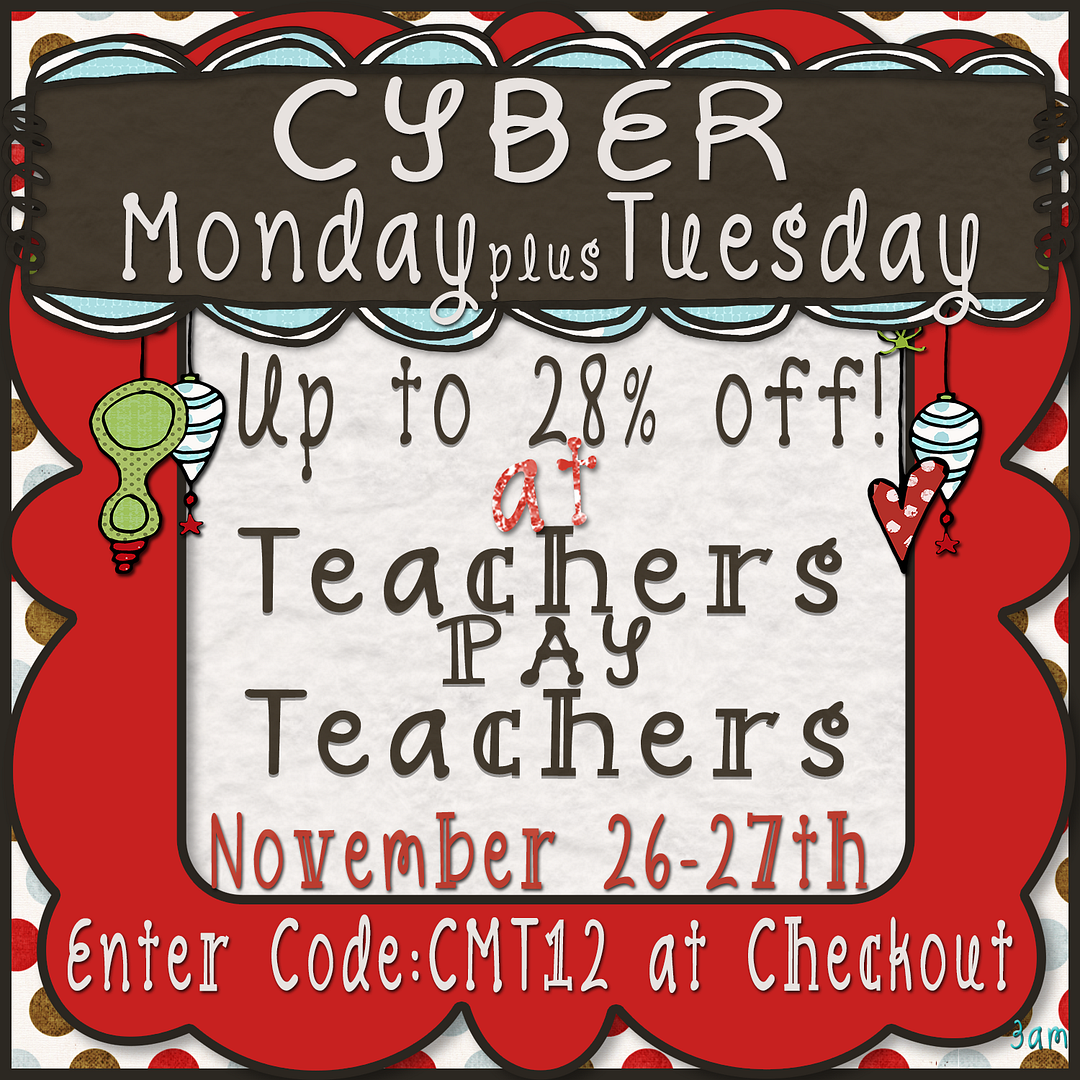 Button courtesy of The 3AM Teacher
From my family to yours, I wish you a very Happy Thanksgiving!!