Happy Thursday...(almost FRIDAY) friends!,
I hope you have had a fabulous week!! I think...if possible...that I am officially SHOPPED OUT! Thank you for all of your support during the Cyber Monday + Tuesday sale!! I was also so excited to add some new editions to my collection. :)
I just stumbled upon this great Cyber Deals linky by sweet Stephanie from
Falling Into First
.
and
from
Blog Hoppin
'!
Here are some of my newest editions to my collection:
I just adored Katie's Busy Teacher's Best Friend: Thanksgiving Edition from Queen of the First Grade Jungle. I couldn't wait to get my hands on her newest Busy Teacher's Best Friend: Christmas Edition!


Find it
HERE
!
Last year I bought & used Rachelle's Holidays Around the World Pack from What the Teacher Wants & was elated to see that she came out with Holidays Around the World Part 2!
Find it
HERE
!
Next, I just ADORE Teri's craftivities from A Cupcake For The Teacher so much that I just can't stand it!! I snatched up her cute Reindeer Games Craftivity!!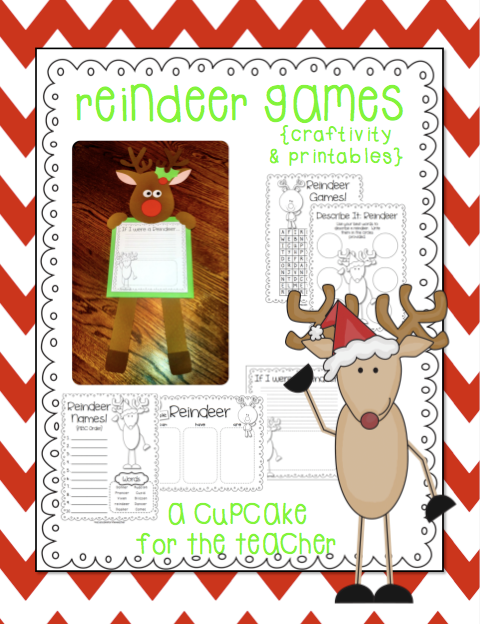 Find it
HERE
!
Next, I was looking for some great writing ideas to get my firsties in gear! I couldn't resist Susan's packet from T.G.I.F:
Find it
HERE
Now, for my newest obsession...clip art! I totally broke the bank and stocked up on oodles of clip art including the following from the amazingly talented Ashley Hughes:
Click
HERE
for Ashley's store!
Now that we're broke from all of the Black Friday/Cyber Monday madness, let's talk
GIVEAWAY
!!
A BIG heads up for a BIG giveaway coming from me and some awesome bloggers
. 12 days of Christmas giveaways in fact, beginning this Saturday December 1st!!! Stop on by each day for a chance to win some fabulous Christmas/Holiday themed items from some amazing bloggers that I have teamed up with. You won't want to miss it, I promise! I don't know about you, but I am SUPER excited!! :)
Happy (almost) Friday!,